by Devin Chicras
On Thursday, December 10, West Hill Community Association (WHCA) held its Fall Community Quarterly Meeting (rescheduled from October) via Zoom and Facebook Live. We heard about some big projects in the works, from a new tiny home village and community message boards to planning for recreational and multiservice community centers.
In a rush? Here's what we covered:
WHCA Events Team Gets Creative to Overcome 2020 Challenges
WHCA Board Member and Events Committee Co-Chair, Devin Chicras, shared how we pivoted our in-person events and activities to safer alternatives:
Skyway Outdoor Cinema turned into Skyway Virtual Cinema

In August, we streamed free movies with our KCLS library card on Kanopy and offered custom-built interactive trivia challenges for The Farewell, Hearts Beat Loud, Arctic, and Boy.
In October, we livestreamed public domain movies on Facebook and shared realtime trivia in the comments. You can rewatch "Little Shop of Horrors" (parts 1 and 2) and "House on Haunted Hill" on-demand!

We hosted our first-ever Pumpkin Decorating Contest (congrats to our three winners!)
Our West Hill Action Mob initiative continued to focus on community improvements and placemaking efforts, and worked with King County to advocate for and help design Community Message Boards, which should be installed by April (read on for more details and mockups!)
You submitted and voted on rain-activated art designs which we're turning into stencils right now to deploy around the neighborhood!
The 2020 Holiday Lights Contest is going on right now – submit your home or business in Skyway-West Hill by 12/21 for a chance to win:
---
Join the WHCA Team!
WHCA's Vice President, Fin Hardy, identified the different ways someone might participate in our organization as we strive to create a more equitable, informed, engaged, and vibrant neighborhood. We need volunteers and committee members, and we have a board election coming up in April. Find out more:
---
Honoring a Local Legend: Sharon Greer
WHCA presented Sharon Greer with a framed Certificate of Recognition for community service.
After two decades of being the Fire Chief's right hand and overall boss lady of the King County Fire District 20 admin office, Sharon Greer thought she was going to spend her final day in the office on November 20, 2020 handing out cloth masks for neighbors in the training yard.
But we couldn't let her years of service to the community, including planning the annual Health & Safety Fair, supporting Skyway Outdoor Cinema, facilitating nonprofit meeting space, being a regular presence at WHCA events and meetings, volunteerism, and just being a phenomenal person go unrecognized. WHCA joined the multi-block car parade on Friday afternoon to celebrate our friend, neighbor, and now newly retired Skyway hero. Congratulations, Sharon – you deserve some rest! We'll see you around.
Watch us surprise Sharon with the car parade:
---
Help WSDOT Improve SR 900/MLK Jr. Way South
Hannah Plummer, Transportation Planner in WSDOT's Management of Mobility Division, and Maan Sidhu, Assistant Area Traffic Engineer, presented findings from a recent community survey on SR900/Martin Luther King Jr. Way South corridor safety.
The WSDOT study was meant to understand what the community priorities are for the stretch of SR900 between 57th Ave S and Renton city limits, and to address accessibility and safety.
The survey revealed neighbors' top concerns for SR900 in Skyway include :
Vehicles driving too fast
Lack of sidewalks and lighting
Congestion at S 129th St (by 7-Eleven)
The WSDOT community engagement for SR900/MLK improvement continues through next summer, when a final report will publicly be released.
Questions about the SR900/MLK survey? Visit the study's website or review the materials included in their virtual online open house and share your thoughts.
---
Tiny Home Village Coming to Skyway-West Hill
The "Progressive Skyway Village" is a proposed tiny home village to be located at 12429 56th Place South (the old Chinook Motel property off SR900). Thirty-five tiny houses will shelter up to 60 individuals, couples, and families with children. Restrooms, showers, and laundry facilities will be located on site, as well as a community kitchen and communal dining area. There will be 24/7 staffing and case management.
This tiny house village is meant to offer services, stability, and support to get folks into more permanent housing.
Naomi from The Low Income Housing Institute (LIHI) assures us that the project will employ all local Skyway contractors and staffing. According to LIHI, "In the coming weeks, we will be preparing to do site work, deliver the houses, and build out the village. While local contractors will do the bulk of the work, there are several components that we need volunteer support on including adding porches and flower beds, finishing the interiors of houses, building decks, and painting.
If you are interested in volunteering, please fill out this form, so that they can learn a little bit more about your interests and availability. You can also contact Amanda Eason at [email protected] if you have any questions about volunteering with the village.
Cathy from Seattle Word of God Church is also helping lead the project. She mentioned the recent community open house which introduced the project and addressed neighbors' concerns. Watch the video from the open house, learn how to join the Advisory Committee, read FAQs, and more on LIHI's website.
---
Renton School District Preparing for In-School Learning
Randy Matheson, Executive Director of Community Relations for Renton School District, says they've now made space for nine high-needs students for in-person learning, which is helping them better prepare for bringing all staff and students back into the school buildings eventually. They are strictly following all CDC guidelines. They are also continuing their free meals program. Follow along with the latest COVID-19 school updates on RSD's website.
---
Skyway Water & Sewer Wrapping Up Major Skyway Park Project
Skyway Water & Sewer General Manager Cynthia Lamothe reports that the Skyway Park Sewer Pump Station Consolidation project is almost done! A couple more large projects will go out for bid in spring 2021. SW&S is working hard to keep their small staff of 10 safe, and to keep offering the best service. Due to the pandemic, there will be no late penalties added to accounts until January 19, and nobody will have their service shut off.
---
Skyway Coalition Community Meeting on Friday
Skyway Coalition, comprised of organizations like WHCA, Renton School District, Renton Innovation Zone, Childhaven, Urban Family, and Somali Parent Education Board, is committed to building a collaborative model for community development through relationship building and trust-building.
WHCA Coalition liaison Jeremy Williams shared that there was to be a community meeting on Friday, December 11 at 5 p.m.
The Coalition is also hiring a full-time manager. Apply today!
---
Alajawan's Hands Breaks Their Annual Thanksgiving Event Records
Ms. Ayanna Brown started Alajawan's Hands to honor her late son. They hold events for the community in Skyway like the annual summer backpack and school supplies giveaway.
For Thanksgiving, instead of hosting their usual big sitdown meal, they set up a drive-through at Talley High School and handed out 200 free pre-packed ready-to-eat Thanksgiving dinners in less than 45 minutes. Residents from 13 different zip codes participated.
---
Skyway VFW Post Toy Drive and Socially-Distanced Santa Photos
Margie Lindberg is not only a WHCA Board Member, but also the Senior Vice President for the Skyway VFW Auxiliary. There's a toy drive happening right now, and a socially-distanced santa drive-by will be happening on December 19th! Drive by the VFW for free food and let the kids share their wishes with santa from 11am-1pm. View more on the Post's Facebook Page.
---
King County Sheriff's Office West Hill Storefront Officer Jimmy Mitchell is Back
King County Sheriff's Office West Hill Storefront officer Jimmy Mitchell met with community members earlier today to get feedback & concerns around policing and public safety. There were rumors about his position going away and the storefront permanently closing – but there's now funding through 2022 to keep both.
KCSO is getting out the word about their new use of force dashboard. Now you can dig into the data around police use of force in our neighborhoods.
Jimmy mentioned funding was found for upstaffing through holidays. On New Years' Eve, there'll be three or four patrol cars instead of just two to serve an area of more than 18,000 residents.
---
King County Staff Applaud Skyway Wins, Councilmember Zahilay Wants You to Keep Fighting
King County Department of Local Services Director John Taylor applauded major wins for Skyway-West Hill in 2021-2022 King County budget led by King County Councilmember Girmay Zahilay and community. There is now funding for community center planning, and marijuana funds are being redirected from KCSO to community services.
Chandler Gayton from Councilmember Zahilay's office also detailed some of the big budget wins for the Skyway-West Hill community in the 2021-2022 King County budget. Chandler can be reached at [email protected] or (206) 477-3060.
King County Councilmember Zahilay enthusiastically shared that there is a lot of great stuff on the horizon for 2021. Reach out to the Councilmember if you want to get involved in topics like affordable housing, community centers, a tiny house village, police and public safety reform, participatory budgeting, and economic development support for Skyway businesses.
---
New Community Message Boards Coming to West Hill's Skyway and Campbell Hill Neighborhoods
Kevin LeClair from King County shared progress on a new community message board project which should be completed and installed by April 2021.
The community has been asking for a project like this for several years. Boards will be installed by Nevzat's Espresso stand on Renton Avenue South and Campbell Hill Garden at South 129th Street and 64th Avenue South.
In preparation for the message board installation, King County has been clearing the sites at Campbell Hill Garden, including the sidewalk nearby.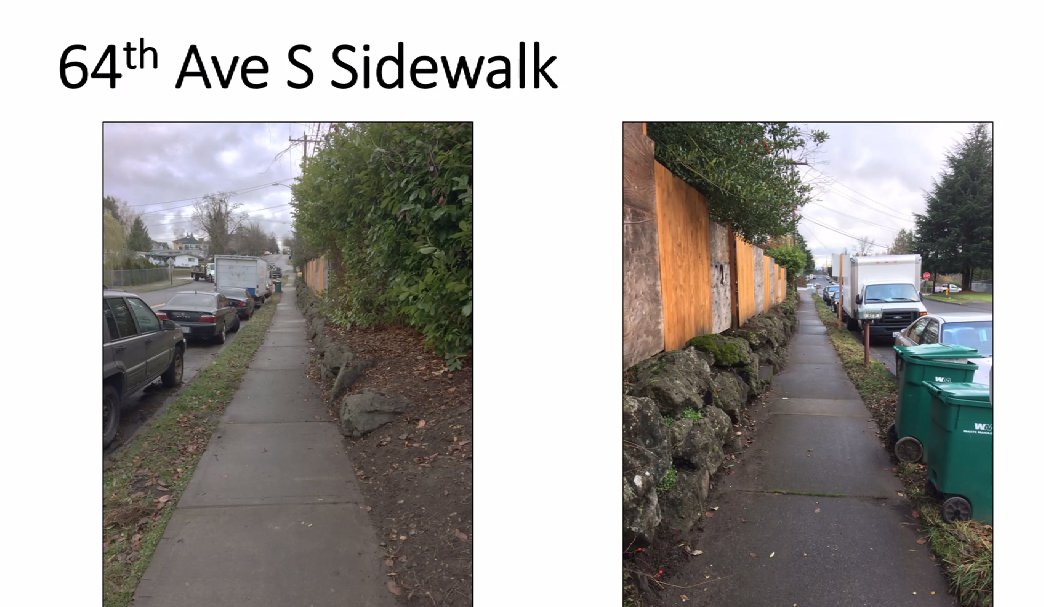 Below is one of the early initial designs for the message board that will be installed by Nevzat's Espresso stand in the planting strip. The 3-D design was rotated onto the sidewalk in the mockup below only to show detail.
The Skyway community message board project is a collaboration between Renton Technical College (welding, automotive, and aerospace programs) for fabrication, King County Roads for installation, and WHCA for concept, design, and ongoing stewardship.
The side panels are plasma cut from steel sheets, and are replaceable if one is damaged, or if we want to switch up the artwork. Initial side panels depict abstract street maps of the neighborhood each message board is located in.
---
Help Build Skyway-West Hill's Community Needs List
King County Department of Local Services has received nearly 2,500 responses to the Skyway-West Hill subarea plan and community needs list survey to date. Submit your feedback before it closes in early 2021.
Fighting Back Against Displacement in Skyway
Yasmeen Perez from King County Department of Community and Human Services shares updates from the Skyway-West Hill Anti-Displacement strategies report.
Anti-displacement strategies include: preserving and creating affordable housing, increasing affordable homeownership, and mitigating displacement when development happens.
The timeline for the County's anti-displacement strategy shows that it will culminate in implementing legislation and administrative actions starting in 2022. See image for next steps. A report back is coming in April.
Feedback from the anti-displacement workshops include: more affordable homeownership and rental units which include mixed-use and proximity to services and transportation. People from the neighborhood should have priority.
A community land trust (CLT) is a nonprofit corporation that owns land and stewards affordable housing and other community assets using a community-led governance model.
For more on the anti-displacement report, contact Yasmeen Perez, Equitable Development Program Manager at [email protected].
Are you a renter in unincorporated King County? You can now apply for the first-ever King County Renters' Commission.
---
Envisioning Community Centers in Skyway for Recreation and as Hub for Service Providers
Ryan Quigtar from Renton Innovation Zone Partnership shared an update on the pop-up Skyway Resource Center, which has officially been designated a U.S. Department of Housing and Urban Development (HUD) Envision Center. The estimated cost is $30-50 million for a permanent recreation center and multi-service center.
To date, RIZP has held six pop-ups featuring about fifteen service providers every other Friday. The events started at New Birth Ministries' parking lot (across from the WHCA office and KCSO storefront) and are now held at Campbell Hill Elementary School. Over 350 people are served! The eventual goal is to move from a pop-up event to an actual brick and mortar building.
Ryan shared some stats about their resource pop-ups in Skyway. Most attendees are from the 98178 zip code and had previously heard about the event through family, friends, and neighbors. The majority of folks are showing up because of food insecurity and for diapers and baby essentials.
Most families attending RIZP resource pop-ups in Skyway are from Campbell Hill and Lakeridge Elementary Schools. The next one is Friday, December 18 at 3 p.m. at Campbell Hill Elementary.
The drive-through food bank is on Saturdays from 10am to noon and will continue to be held at 12643 Renton Ave S.
---
New WIC Office in Skyway
There is now a Women, Infants, and Children (WIC) office in Skyway at the Cynthia A Green Family Center at 12704 76th Ave S. To schedule an appointment, call 206-263-9300.
---
King County Fire District #20 Chief on COVID-19 Testing and Holiday Safety
King County Fire District #20's Chief Eric Hicks: In the 98178 zip code, 12,000 people have been tested, 7,647 positive. They recently partnered with local organizations such as Cierra Sisters and Public Health Seattle-King County to hold an event on December 5 with flu shots, testing, and healthcare enrollment. Please continue to stay vigilant against COVID-19.
Chief Hicks reports that there have been three residential fires recently, but no one has been hurt. REMEMBER: Keep Christmas trees watered, watch candles, chimneys, and space heaters. A new rehab unit has been put into service to respond to fires, replacing the old unit they've used continuously since 1985.
Chief Hicks also says thank you to retiring KCFD20 Office Admin Sharon Greer for her many years of service!
---
Teamwork and Unstoppable Momentum Characterize Skyway-West Hill in 2020
WHCA board president Joey Dunn, concluding his first-ever WHCA Community Quarterly Meeting, stated that there is so much momentum in Skyway-West Hill right now from local organizations and community members. This meeting really displayed that.
WHCA President Dunn says "thank you" to all who brought their feedback, insight, and passion.
Mark your calendars! Our Winter 2021 meeting will also be held virtually. The date has shifted from the traditional third Tuesday in January to Tuesday, February 16, 2021.
---
Hey neighbors! If you like having a more engaged, informed and vibrant community, you can make a huge impact by joining your neighbors in giving $5 or more a month to the leanest, hardest working all-volunteer nonprofit in the neighborhood.