By Devin Chicras
While the ongoing COVID-19 pandemic tried its best to impede progress, it was utterly powerless to slow down the passionate community advocates who work every day to make Skyway-West Hill a better place for everyone. We've rounded up only a few of our favorite stories from 2021 to look back and celebrate the dreamers and doers who made great things happen despite another frustratingly challenging year.
Bank to Become Skyway Resource Center
A local campaign led by Renton Innovation Zone Partnership (RIZP) convinced U.S. Bank to donate their building and land to the community (currently under the experienced stewardship of King County Housing Authority).
The property, located at 12610 76th Avenue South, will eventually become a HUD EnVision Center, replacing the mobile resource center that RIZP first launched in the fall of 2020. This new permanent home will feature services that focus on economic empowerment, educational advancement, health and wellness, and character leadership services.
Input is being gathered to help design this new Skyway Resource Center, slated to open in 2023.
"Not only is this a huge win for our neighborhood and something tangible that our community will feel, but this donation represents the beginning of a community-owned development the people of Skyway have wanted and advocated for over the years."

Ryan Quigtar, RIZP executive director
Skyway Park Gets Bigger & Better
Construction is set to begin in spring 2022 on a whole range of improvements to Skyway Park including new playfields, playground equipment, pathways, and lighting.
King County Parks is acquiring the powerline hill entrance off Renton Ave S, and the north half of the parking lot behind the fire station. The triangular parcel in between at 75th Ave S will become Skyway Gateway Park, a community garden and gathering space anticipated to get underway in spring/summer 2022.
Community Center Progress
In 2020, $10 million from the King County budget was secured for a new community center and a feasibility study was conducted outlining costs, potential sites, and perceived challenges. King County recently appointed a project manager with Skyway roots, Malcolm Lee, to facilitate the project.
"Skyway has needed a community ever since I was a young boy living in the neighborhood," the U.S. Navy veteran says. "People in the community have spoken and desire a place where their children and families can gather, learn and celebrate. It would be a tremendous source of community pride to make this a reality."

Malcolm Lee, Project Manager, King County Local Services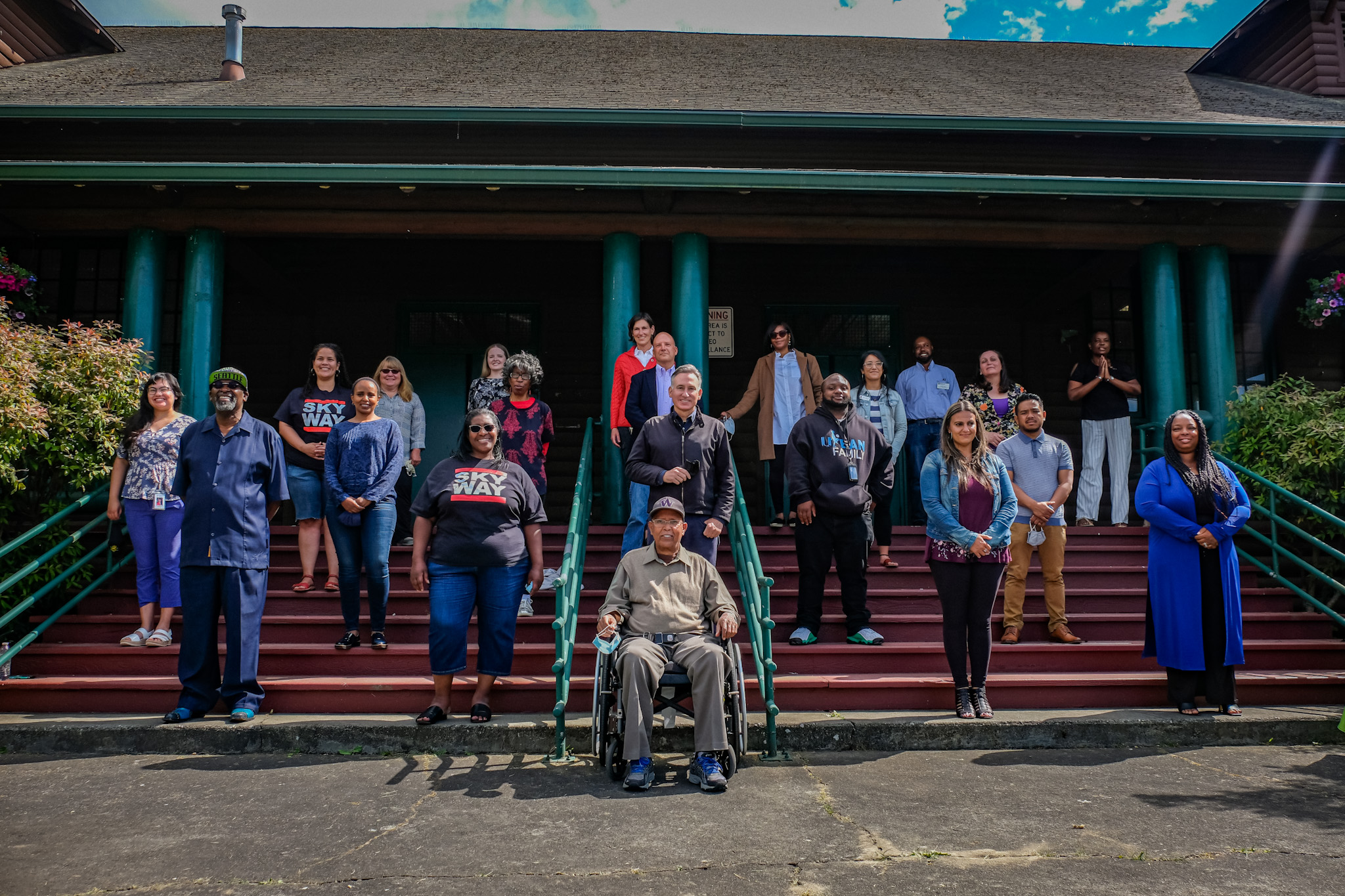 Unprecedented Funding Wins
Fighting Displacement
A community-driven process helped shape priorities for a $5 million local fund for affordable housing development to fight displacement. A request for proposals is anticipated to happen in January 2022.
King County has led engagement and outreach around two potential sites for affordable housing developments, Brooks Village (just north of Skyway Grocery Outlet on Renton Ave S) and the Empire Parcels (owned by King County Housing Authority, across from StorQuest just off MLK & S 129th St).
Redrawing the Lines
After every census, political district lines get redrawn to ensure a balanced headcount in each district. The community was allowed to provide input on both King County Council districts as well as Washington State congressional & legislative districts.
Local advocates fought and succeeded in keeping our unincorporated area whole and within existing districts, retaining our current representation in the final county maps and in the proposed state maps.
Reimagining Public Safety
With new charter amendments expanding police oversight and accountability, King County is looking to continue addressing systemic racism and evolving public safety beyond policing and detention while investing in community wellness and care. Pilot programs will launch in 2022, guided by community input.
Addressing Homelessness
Tent City 3, a recurring temporary encampment, moved back in at MLK and S 129th St (across from 7-Eleven) in September 2021 and plans to move to a new location on January 15, 2022. Check their website for current needs if you are able to donate.
Progressive Skyway Village, a tiny home community with 35 units managed by LIHI, opened on the former Chinook Motel property at MLK and 56th Pl S in June. If you are interested in donating or volunteering, email

[email protected]

.
Center of Hope, a 24-hour shelter operated by REACH for families experiencing homelessness with a strong track record of swiftly moving folks into stable housing, relocated to their newly renovated home at Lakeridge Lutheran Church. Gifts of funds or much-needed items are welcome.
Shaping Our Future
The Skyway-West Hill Subarea Plan heads to King County Council for review in early 2022. The Subarea Plan expresses the community's vision for the future and sets policies that will guide decisions for the next two decades. Check out a summary of the draft plan.
New Way to Get Around
The Skyway Community Van program provides a van for pre-scheduled trips—as a driver or as a passenger. Schedule your ride in advance or volunteer to drive your neighbors or your own family. Contact Kahdijah Jackson at (206) 477-7660 or by email at [email protected].
---
Like having a more equitable, engaged, informed, and vibrant community? You can make a huge impact by joining your neighbors in giving $5 or more a month to the leanest, hardest working all-volunteer nonprofit in the neighborhood.